New Homes In Frederick County
New Home Construction Resumes in Frederick County
There are some new residential building projects underway, after a few years of a very slow market for new homes. It seems that housing development is returning. New home construction in Frederick Md is reaching levels we haven't seen in several years.
New home construction is taking place in many communities throughout Frederick County.


New Home Construction In the City of Frederick:


21704
Villages of Urbana – Ryan Homes and NV Homes are building in Townhomes in The Villages. Parkwood Homes is building single-family homes.

Westview South - More than 500 homes are in the plans at Westview South, a new community coming from Mitchell & Best Home Builders, a Rockville Maryland company. Located on Buckeystown Pike, near New Design Road, south of Westview Mall. The community will be a mix of three- and four-level town houses, condominiums and houses, with prices ranging from the low $300,000's to mid-$400,000's.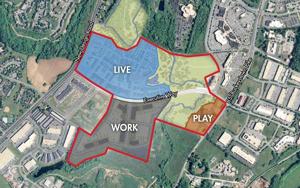 Image from http://www.westviewsouth.com/
There are 518 approved homes – 122 single-family homes, 178 townhouses and 218 Condos. Construction will begin soon, with models open in the Spring. The homes are not in the city limits, so no city taxes. The community will include a clubhouse and a swimming pool.
The Frederick County Planning Commission unanimously approved the concept for a site development plan for a Village Center just south of Urbana Elementary School. Casabella, as it stands now, would include development of three buildings. There would be 8,550 square feet of office and retail space and one apartment building, according to staff reports.

Monocacy Park- Townhouses from Wormald Builders.
21703
Ballenger Creek – At Linton at Ballenger, Drees is building single-family homes, Ryan is building Townhomes. Coming Soon is Manors at Ballenger, a D.R. Horton build.
21702
21701
Towns at Maxwell Square – Completed mid-2016.

Worman's Mill – Wormald will be building Wellington Villas some time in the near future...stay posted!

Market Square – Dan Ryan is building townhomes.


Eastchurch – A new community is in the first phase, by KB Home, Wormald, and Richmond American Homes, on East Church Street. Single-family, towns and condos.


New Home Construction Throughout Frederick County


Brunswick Maryland
Middletown Maryland
Walkersville Maryland
New Market Maryland
Ijamsville Maryland
Mt. Airy Maryland
Clarksburg Maryland - Bennet Preserve beautiful single family home on the Frederick County line. To Be Built by Wormald Builders.
Buyer Representation for New Homes
Did you know, when purchasing new home construction, buyers can have their own buyer representation? The real estate agent at the builder's model home is the seller's agent for the builder, representing the interest of the builder.
As a buyer, there are advantages to having your own buyer's agent to represent your interests. Most builders, but not all, have built-in costs that cover the Realtor's commission.
The cost to the buyer is zero, so why not have representation?

Realtors who have experience with new construction know the questions to ask along all the phases of the build.

The buyer's agent can help you interpret and understand the contract.

The Realtor can do a non-biased market analysis, one important and often overlooked item in new construction. Tip: Someone purchasing new construction needs to be dedicated to staying in the neighborhood for 2-4 years after the builder closes out, especially if the new buyer only puts 10% or less down. The builder basically controls the value of the home until the neighborhood is closed out.

Many things are negotiable, whether the builder offers or not. Using an experienced buyer's agent can be a benefit in any negotiations. Agents negotiate every day as a part of their job. How often do home buyers engage in negotiations?

Market conditions greatly dictate a builder's incentive to make deals. A buyer's agent can help you know when market conditions are right for these benefits.
Different States, Different Laws
In Maryland, laws concerning real estate licensing require that sales agents for new home builders have a Maryland real estate license, as of Oct. 1, 2007. (There are some exemptions for custom home builders.) Maryland is a consumer advocacy state. Issues of Agency Representation are there to protect consumers in Maryland, one of the first states to enact real estate agency laws in the early 90's.
If you choose to work with a buyer's agent on a new construction home, make sure your agent is experienced and will work for you. There are always stories of agents who did nothing but pick up a check, make sure your agent is not one of them.
Contact Chris Highland for buyer's agency on new home construction Frederick Md. Chris has over 25 years of experience in central Maryland, working with several small builders since 1993: 301-401-5119 – Cell
See All New Construction Homes in Frederick County
Click here for all the results
Author:
Christopher Highland
Phone:
301-401-5119
Dated:
October 23rd 2017
Views:
231
About Christopher: ...